EARLY YEARS FOUNDATION STAGE
Welcome to St Bede's Foundation Stage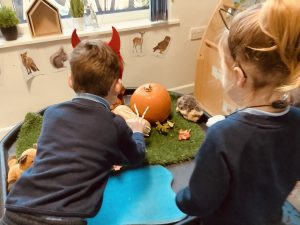 "The Early Years of a child's life are crucial. At St. Bede's, we work hard to make every day special."
Nursery Timings
AM Session – 8:30 to 11:30
PM Session – 12:15 to 3:15
Full time children – 8:30 to 3:15
Reception Timings
8:45 to 3:10
Welcome to Nursery and Reception
Thank you for considering St Bede's Primary for the next stage in your child's learning journey and for visiting our website. We hope you find these pages useful.
Please watch the video below to gain a flavour of our EYFS. We strongly encourage parents to visit the school. An appointment can be made via the school office.
Our curriculum is designed to be creative, inspiring, challenging, and memorable and to provide all children with opportunities to expand their horizons and develop skills that will enable them to be confident, successful learners who will reach their full potential.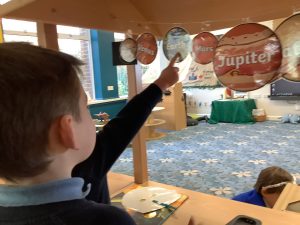 We believe that every child is unique – they all have the potential to achieve; and our broad, varied curriculum allows every child to excel now and in the future based upon their own personal strengths, interests and core values.
From their different starting points, all children will make good progress academically, emotionally, creatively, socially and physically. Knowledge, understanding and skills will be secured and embedded so that children attain highly and are fully prepared for their time outside of the Foundation Stage.
At St Bede's we are committed to providing high quality Early Years Care and Education.
Our dedicated team of teachers and teaching assistants are always working to achieve the best for all children.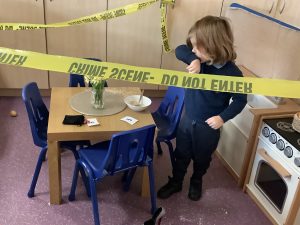 In line with the revised Early Years Foundation Stage Framework 2021 we seek to provide the following for all the children we work with;
Quality and Consistency – so every child can make good progress.
A Secure Foundation – through planning for children's individual needs.
Partnership Working – with parents and other agencies.
Equality of Opportunity – ensuring every child is included and supported.
Partnership with parents and carers                                      
At St Bede's we greatly value the relationship we create with parents. We try our very best to make sure you are fully informed about everything that is happening at school and hold regular events that parents are welcomed into school to take part in. We encourage parents to keep us up to date with how their children are getting on at home and use WOW moments, Twitter, Facebook and Tapestry to communicate between home and school.
Our Foundation Stage Unit 
Within the  foundation stage unit, Nursery and Reception children work together in our outdoor and indoor provision.
Working in this way allows children to access learning in different ways and at a level appropriate for them. There are four members of staff within our unit which means we can facilitate a range of opportunities for your child.
The different areas of continuous provision are structured to support independent learning based on children's interests and next steps in learning. Provision is reviewed daily and weekly to cater for the children's needs and interests.
More about the curriculum…..
The Early Years Foundation Stage curriculum at St Bede's
In EYFS we strive to provide an exciting and engaging curriculum that inspires awe and wonder and a love of learning in all of our children, providing them with rich and memorable experiences which prepare them for their next stage of learning when they reach Year 1. There, they will have their skills built upon and progression made in a variety of new subjects. Therefore, the role of EYFS is imperative as it underpins all learning and lays the foundations to children's skills and development in order for them to progress and achieve their maximum potential. We support each child in working towards year one readiness at the end of Reception through deliberately planning opportunities within direct teaching and purposeful provision alongside providing opportunities for children to follow their own interests and initiate their own learning.
Our personalised EYFS curriculum is based on the Statutory Framework for the EYFS (2021) and is flexible in content and theme depending on our children's needs and interests. The non-statutory guidance from Development Matters document (2021) is also used to support the implementation of the requirements of the EYFS. Our curriculum has also been developed in line with the rest of the school. This ensures that learning over time is sequenced effectively and there is progression; within the EYFS and then on into Year 1.
At St Bede's we recognise that the seven areas of learning and development outlined in the EYFS are important and inter-connected. Three areas are particularly crucial for igniting children's curiosity and enthusiasm for learning, and for building their capacity to learn, form relationships and thrive.
These three areas are the prime areas:
Communication and Language
Physical Development
Personal, Social and Emotional Development
Children are also supported through the four specific areas, through which the three prime areas are strengthened and applied.
The specific areas are:
Literacy
Mathematics
Understanding the World
Expressive Arts and Design
Prime areas
Communication and Language
The development of children's spoken language underpins all seven areas of learning and development. For this reason, we prioritise the development of communication and language.
Reading frequently to children, and engaging them actively in stories, non-fiction, rhymes and poems, and then providing them with extensive opportunities to use and embed new words in a range of contexts, gives children the opportunity to thrive.
Through conversation, story-telling and role play, where children share their ideas with support and modelling from staff, and sensitive questioning that invites them to elaborate, children become comfortable using a rich range of vocabulary and language structures.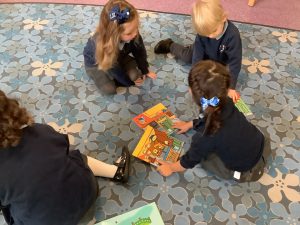 A good knowledge of language will help the children to develop good reading and writing skills as they progress through school.
Throughout the EYFS setting, we introduce a new key word each week which is linked to the children's interests, the season, topic or the flow of the year. We teach new vocabulary by using the strategies and ideas from the Word Aware Programme using song, chants, role play and frequent revisiting to help embed new learning.
English as an additional language
We understand that speaking more than one language has lots of advantages for children, and that children will learn English from a strong foundation in their home language. For this reason, we encourage families to use their home language for linguistic as well as cultural reasons. Children learning English will typically go through a quiet phase when they do not say very much and may then use words in both languages in the same sentence. EYFS staff communicate with parents about what language they speak at home, try and learn key words and celebrate multilingualism.
We use the Talk Boost and Blast Intervention programmes to asses and support the development of pupils' speech, language and reciprocal communication across the EYFS.
Personal, Social and Emotional Development
At St Bede's we recognise that Children's personal, social and emotional development (PSED) is crucial for children to lead healthy and happy lives, and is fundamental to their cognitive development. Underpinning their personal development are the important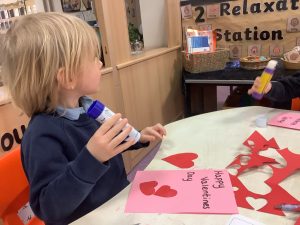 attachments that shape their social world. Strong, warm and supportive relationships with adults enable children to learn how to understand their own feelings and those of others. Children at St Bede's are supported to manage emotions, develop a positive sense of self, set themselves simple goals, have confidence in their own abilities, to persist and wait for what they want and direct attention as necessary. Through adult modelling and guidance, children learn how to look after their bodies, including healthy eating, and managing their personal needs independently. Through supported interaction with other children they learn how to make good friendships, co-operate and resolve conflicts peaceably. These attributes will provide a secure platform from which children can achieve at school and in later life.
We follow the Jigsaw whole school approach to support the teaching of PSED.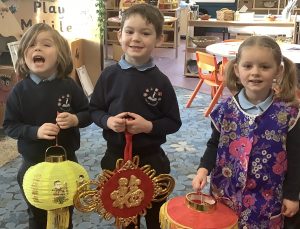 Physical Development
At St Bede's we recognise that physical activity is vital in children's all-round development, enabling them to pursue happy, healthy and active lives.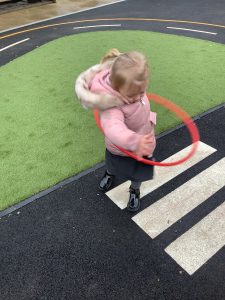 Gross and fine motor experiences develop incrementally throughout early childhood, starting with sensory explorations and the development of a child's strength, co-ordination and positional awareness. We use Squiggle Whilst You Wiggle, and Dough Gym activities where appropriate across the EYFS to develop gross and fine motor movements.  By creating games and providing opportunities for play both indoors and outdoors, adults can support children to develop their core strength, stability, balance, spatial awareness, co-ordination and agility. Gross motor skills provide the foundation for developing healthy bodies and social and emotional well-being. Fine motor control and precision helps with hand-eye co-ordination which is later linked to early literacy. Repeated and varied opportunities to explore and play with small world activities, puzzles, arts and crafts and the practice of using small tools, with feedback and support from adults, allow our pupils to develop proficiency, control and confidence.
We follow the PE Passport program to deliver outstanding PE lessons.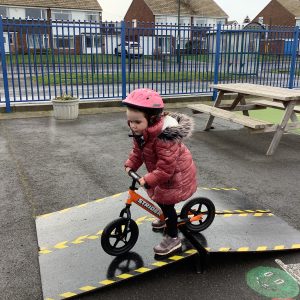 Specific Areas
Literacy
At St Bede's we believe that it is crucial for children to develop a life-long love of reading. We understand that reading consists of two dimensions: language comprehension and word reading. To develop language comprehension (necessary for both reading and writing) we regularly talk with children about the world around them and the books (stories and non-fiction) they read. We also enjoy rhymes, poems and songs together.
In Nursery children develop their phonological awareness through taking part in adult-led activities which promote listening skills. Through these activities' pupils develop their auditory discrimination, and auditory memory. Activities to progress children's phonological awareness and interest in sounds are embedded prior to the introduction of systematic phonics teaching in Reception. Phase 1 of Letters and Sounds is used alongside the Little Wandle Letters and Sounds Nursery guidance to support the teaching of phonological awareness.
Skilled word reading, taught in Reception, involves both the speedy working out of the pronunciation of unfamiliar printed words (decoding) and the speedy recognition of familiar printed words. Writing involves transcription (spelling and handwriting) and composition (articulating ideas and structuring them in speech, before writing). At St Bede's we follow the Little Wandle Letters and Sounds phonics program to provide an explicit systematic approach to teaching children how to read and write.
For more information, please see class pages.

Children across the EYFS receive at least one home reading book each week. All children choose a book from our EYFS lending library and once children are able to recognise letters and blend and segment they also take home one of our phonetically decodable reading books which are closely matched to each child's increasing knowledge of phonics and 'tricky' words. Pupils are encouraged to re-read their home reading books several times to develop their fluency and deepen their understanding of the book. Children are given access to a wide range of reading materials, such as books, poems, fiction and non-fiction reading materials to ignite their interest in books. Lending library books are designed to be shared between child and their families. Children have the option to change this book as often as they like, but they are all changed at least once a week.
Children will hear stories from the EYFS Repeated Text/Super Six collection read fluently and without interruption daily. These texts will be read repeatedly throughout the year to support the development of vocabulary, language structures and foster a passion for reading.
Please click below to see our Super Six coverage documents. Please note; these are subject to change and plans remain flexible depending on the interests of the cohort and needs of individual children. For more information, please see class pages.
EY Coverage and Progression Map
Early-Years-Reading-Progression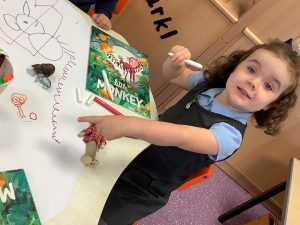 At St Bede's children mark make every day. Children are encouraged to develop a preference for a dominant hand and develop an appropriate grip. Our younger pupils take part in unstructured writing activities, such as drawing a picture of their choice. When children are ready to write they are encouraged to rehearse out loud what they want to say, before spelling the words using the graphemes and 'tricky' words they have learnt. Nursery pupils take part in 'Squiggle Whilst You Wiggle' activities to develop their fine and gross motor control for writing. Reception pupils practise handwriting every day during phonics lessons and learn correct letter formation. In the EYFS pupils write using print. Both the process and the  product of children's handwriting is monitored as we understand how these factors form the basis of a fluent handwriting style which is developed in KS1.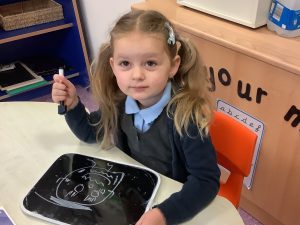 Mathematics
We understand that developing a strong grounding in number is essential so that all children develop the necessary building blocks to excel mathematically.
At St Bede's children are taught to count confidently. Pre-number work is covered in Nursery through nursery rhymes and stories, social counting and using numbers in play. Children develop an understanding of how-to-count using the following principles;
The one-one principle
The stable-order principle
The cardinal principle
Once children have developed their understanding of how to count, they can develop their understanding of 'what to count' using the following principles;
The abstraction principle
The order irrelevance principle
Children in Reception then move on to develop a deep understanding of the numbers to 10 and beyond, the relationships between the numbers and the patterns within those numbers. For each number, pupils explore comparison, counting, composition and change. Children are provided with regular opportunities to revisit key mathematical concepts through the EYFS to embed learning.
By providing frequent and varied opportunities to build and apply this understanding, such as using manipulatives, children develop a secure base of knowledge and vocabulary from which mastery of mathematics is built.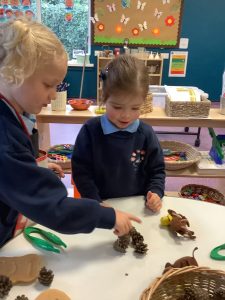 Manipulatives used in EYFS;
Numicon
Counters
Counting objects such as compare bears
Multi-link/ Unifix cubes
10 frames
Part- part- whole models
Dice
Real life objects
Our curriculum includes rich opportunities for children to develop their spatial reasoning skills across all areas of mathematics including shape, space and measures. We believe that is important that children develop positive attitudes and interests in mathematics, look for patterns and relationships, spot connections, 'have a go', talk to adults and peers about what they notice and not be afraid to make mistakes.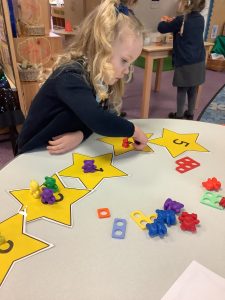 Children take part in daily structured maths group times. When teaching maths in the EYFS we use a 'teaching to the top' strategy and therefore pupils do not work in set ability groups. Lower ability pupils are supported by teaching staff and higher ability pupils with the lesson. Higher ability pupils are challenged through the use of questioning, demonstrating and reasoning.
In reception, we have used Numberblocks and the National Centre for Excellence in the Teaching of Maths (NCTEM) alongside white rose maths supporting materials to plan and teach for mastery of maths.
Within each EYFS classroom there is an explicit Maths area which children can access independently during continuous provision. Resources within this area open ended and are frequently changed to tie in with children's interests and reflect what pupils have been learning in the structured maths lessons. It is here where pupils will practise and apply the concepts which they have learnt during the structured maths lessons independently. This area also consists of resources to support previous learning, allowing pupils to revisit and recap previous mathematical learning. Maths is not however limited to this area of the classroom and is often discreetly embedded throughout other classroom areas such as sand and water play, play dough, role play, games and ICT. Staff encourage pupils to explore concepts, experiment and investigate to develop their mathematical understanding through play in a range of areas within the classroom.
Understanding of the World
This area of learning involves guiding children to make sense of their physical world and their community through opportunities to explore, observe and find out about people, places, technology and the environment. We firmly believe that our flexible, experience based curriculum reflects our diverse and ever-changing community and provides pupils with opportunities to learn about their own heritage alongside developing their understanding of other cultures and religions. Children are given opportunities to solve problems, investigate, make decisions and experiment. They learn about living things, their environment, the world around them and the people who are important in their lives. Children are also given opportunities to develop computing skills and to work with and use modern technology.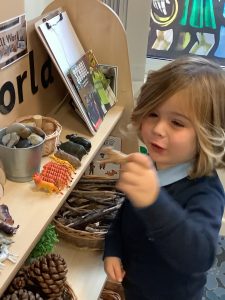 At St Bede's we understand that the frequency and range of children's personal experiences increases their knowledge and sense of the world around them. For this reason, our pupils experience high quality educational visits linked to areas of interest and topics of study wherever possible throughout the year. Pupils also have the opportunities to meet important members of society and throughout the year a number of visitors are invited into school to deepen pupils understanding of communities and culture.
Pupils at St Bede's have regular opportunities to listen to a broad selection of stories, non-fiction, rhymes and poems that foster their understanding of our culturally, socially, technologically and ecologically diverse world. As well as building important knowledge, this extends their familiarity with words that support understanding across domains. Enriching and widening children's vocabulary to later support reading comprehension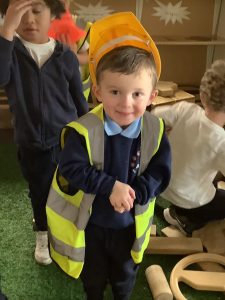 Our school grounds and EYFS garden provide a wealth of opportunities for children to discover, explore and extend their natural talents. Here children learn first-hand about the riches of the natural environment whilst developing important life skills such as team work, problem solving and resilience.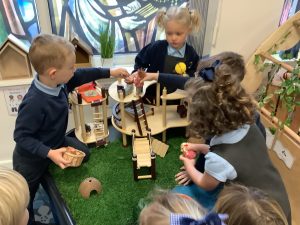 Religious Education
Pupils in St Bede's take part in the whole school Religious Education sessions, class liturgies and whole school worship and celebration throughout the week.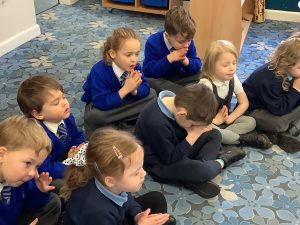 During these time pupils are explicitly taught about our own faith, important religious festivals, catholic social teaching and a range of religions around the world. We use the Come and See and Life to the Full Religious Education Syllabus along with Development Matters (2021) to deliver a rich and diverse RE curriculum which enables our pupils to;
Encounter religions and other world views through books, times, places and objects
Meet special people and visit a place of worship.
Develop their appreciation of and wonder at the natural world.
Form an appreciation and value of human beings, enabling them to recognise and encounter diversity
Express their own ideas and insights around questions of beliefs and meaning;
Investigate and response to important questions for individuals and the wider community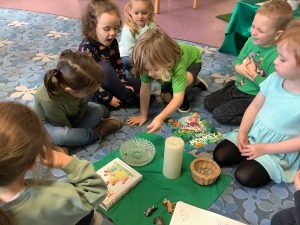 Expressive Arts and Design
At St Bede's we recognise that the development of children's artistic and cultural awareness supports their imagination and creativity. It is important that children have regular opportunities to engage with the arts, enabling them to explore and play with a wide range of media and materials.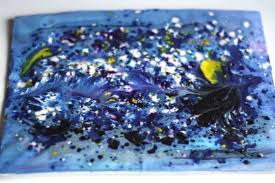 The quality and variety of what children see, hear and participate in is crucial for developing their understanding, self-expression, vocabulary and ability to communicate through the arts. The frequency, repetition and depth of their experiences are fundamental to their progress in interpreting and appreciating what they hear, respond to and observe.
We provide opportunities for all children to explore and share their thoughts, ideas and feelings through a variety of art, design, technology, music, drama. movement, dance and imaginative play activities. Children are given opportunities to make paintings, drawings, collages, models and use musical instruments. Children also learn new songs and rhymes and enjoy singing them with each other. Through various times during the year children are given the opportunity to participate in school performances and assemblies.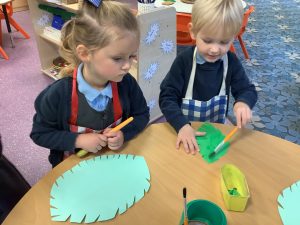 Characteristics of Effective Learning
In planning and guiding what children learn, practitioners reflect on the different rates at which children are developing and adjust their practice appropriately. The characteristics of effective teaching and learning are:
Playing and exploring – children investigate and experience things, and 'have a go'
Active learning – children concentrate and keep on trying if they encounter difficulties, and enjoy achievements
creating and thinking critically – children have and develop their own ideas, make links between ideas, and develop strategies for doing things
Useful Information
early-years-fs-progression-knowledge-and-skills-map-new-framework
EY Coverage and Progression Map
collection-and-Departures-Overview
For further information on the Early Years Foundation Stage Curriculum please use the links below to access the Governments statutory and Non-statutory guidance. 
For more information about Nursery and Reception please look on our class pages.