'The study of geography is about more than just memorising places on a map. It's about understanding the complexity of our world, appreciating the diversity of cultures that exists across continents. And, in the end, it's about using all that knowledge to help bridge divides and bring people together.' Barack Obama
Learning is Remembering and Recalling…
A high quality geography curriculum is about developing an understanding of our world, primarily through experience, investigation and learning from primary and secondary sources.
It should inspire in pupils, a curiosity and fascination about the world and its people that will remain with them for the rest of their lives. Teaching should equip pupils with knowledge about diverse places, people, resources and natural and human environments, together with a deep understanding of the Earth's key physical and human processes. As pupils progress, their growing knowledge about the world should help them to deepen their understanding of the interaction between physical and human processes, and of the formation and use of landscapes and environments. Geographical knowledge, understanding and skills provide the frameworks and approaches that explain how the Earth's features at different scales are shaped, interconnected and change over time.
At St Bede's, we want our children to love geography, to be inquisitive about the world around them and to have a love for nature. They should be aware of the ways to preserve our world for future generations by understanding how to recycle waste and conserve energy.
At St Bede's, we recognise how in our diverse society, children need, more than ever before, to understand other people and cultures. Geography makes a major contribution to children's physical, intellectual, social and emotional development. In short, geography matters.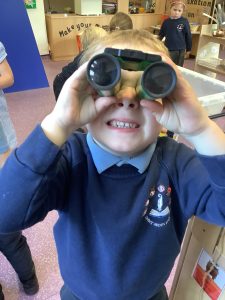 What are we trying to achieve in our curriculum?
In school our wider intent is to make learning meaningful and memorable. In terms of our geography curriculum we aim to engender the excitement, creativity and critical thinking about the world that will equip young people to make their own way in it.
Geography at St Bede's Primary extends far beyond the walls of the classroom.
Our aim is to provide the children with a breadth of memorable experiences, to shape our pupils into curious and considerate global citizens. By the time our students leave us, they will be well equipped with the skills and the knowledge to explore the world around them and have a greater understanding of their planet.
We also intend for the children to develop an in-depth knowledge of our community and locality. We want the children to appreciate and respect the wonderful world and encourage stewardship of their surroundings.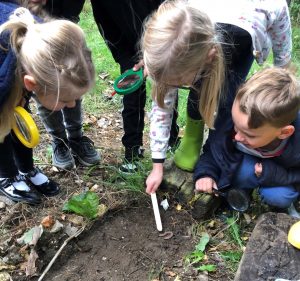 How is our curriculum delivered?
At St Bede's we have planned the geography curriculum carefully to ensure progression through the year groups and to enable pupils to use and build on prior learning. Curriculum planning is enriched by staff members own knowledge, understanding, use of questioning and creativity. We change and adapt planning to meet the needs of our pupils, encourage enquiry based learning and engage the children in critical thinking. This enables the children to become decision makers, global citizens and provides the tools to succeed in life.  We believe that it is essential for children to gain a good balance of core knowledge (such as facts, vocabulary, locational knowledge) with a sense of place (where children use their senses, explore their emotions, values and opinions). Through this sequential planning, the skills and vocabulary also build year on year and through carefully considered local studies and fieldwork we ensure that the children have the opportunities to use their newly acquired skills first hand.
Pupils investigate a range of places, in Britain, Europe and the wider world, to help develop their knowledge and understanding of the Earth's physical and human processes. We are equally committed to providing children with opportunities to investigate and make enquiries about the local area so that they can develop a real sense of who they are, their heritage and what makes our local area unique and special.
Fieldwork is an essential part of developing geographical skills and we ensure that the children have opportunities to conduct fieldwork at school and using the fantastic surrounding environment of our location. All of these experiences transfer over when researching and finding out about other areas around the world that are not as easily accessible. We strive to use technology and different media, where possible, to bring the world into our classrooms in order for us to learn about global issues, different cultures and places further afield.
Teachers understand the core structure of the geography curriculum and how it is set out at St Bede's School. They know what is taught when and can makes links to prior learning. We use curriculum mapping, resources and assessments to plot and monitor planning and progression throughout the school. Each year group is also provided with vocabulary lists and map work skills that progress through the year groups. This ensures curriculum coverage and that skills are built on year on year. Staff are actively encouraged to adapt planning based on the interests of the children, national and global events, opportunities for enquiry lead learning and the use of critical thinking. In addition staff develop and source resources, plan trips/visits and the use of fieldwork to support units where possible. Curriculum Maestro provides the structure for the geography curriculum at St Bede's School and that is then enhanced by the high quality teaching and planning of the teachers.
Geography is taught in units. We ensure that the subject is taught discreetly so the children understand what the subject of geography is. Where possible, links are made with other curriculum areas but this does not impact on the geography focus of the unit being taught.
We make links with parents by sharing knowledge organisers both in class and at home and through updating curriculum information on the website. Through these methods parents are aware of the geography being taught including vocabulary and can further support their child's learning at home.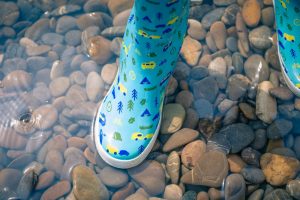 Impact
Children make progress, are more knowledgeable about the world around us and are confident in talking about physical and human features of geography. Teachers adapt the curriculum to meet the needs of all children.
We use a range of strategies to assess what skills and knowledge the children have attained each term including the following:
Book looks
Pupil Voice
Regular feedback each lesson
Our Geography Curriculum will enable pupils to:
Develop the ability to make sense of information

Observe and interpret the environment

Develop and secure Map reading

Understand and interpret secondary data

Communicate findings in drawings, charts and diagrams

Record and analyse data using ICT

Discuss issues and problems with others

Develop critical and creative thinking
Develop an awareness and understanding of distant places and environments

Recognise how people from all over the world are linked through travel and trade

Build a framework of place knowledge

Investigate major rivers, mountains and cities

Develop an appreciation of other peoples and cultures

Recognise the need for a just and equitable society
Develop an understanding of spatial relationships at a range of scales

Undertake fieldwork, enquiries and active exploration of the locality

Explore landscapes, settlements and human activity

Become a global citizen with multicultural understanding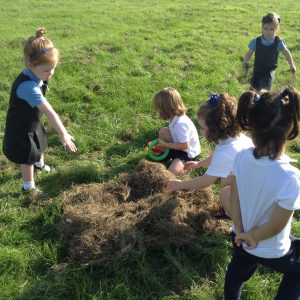 Geography at St Bede's will make explicit links between sustainability, eco-schools, and global citizenship. It will help our children develop their experience of our local area and the wider world.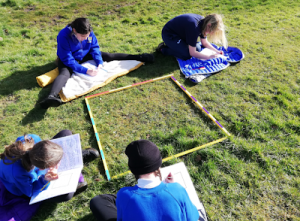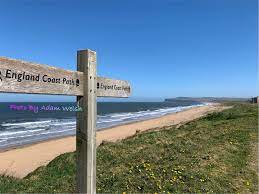 Please find below links to our school Geography Statement of Intent, Policy and Action Plan for this academic year: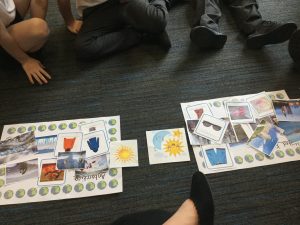 Programme of Study for Geography
Geography Curriculum and Progression at St Bede's
Geography-Progression-document-incl-EY
Geography Curriculum Components and Composites progression
Top Tips to Help Your Child be a Geographer
Useful Websites
Geography Curriculum Document – https://www.gov.uk/government/uploads/system/uploads/attachment_data/file/239044/PRIMARY_national_curriculum_-_Geography.pdf