Welcome to the Nursery new starter page where you will find all the information you need about our Nursery at St Bede's.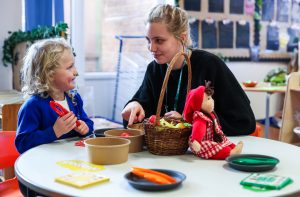 What to expect:
Our Nursery is for children aged 3 until they move into the Reception year. We have an engaging and fascinating indoor and outdoor provision, which includes areas such as a creative area, water and sand area, a stage, reading area, writing area, home corner, construction and small world play areas. We play out in all weathers and ask all of our families to send in waterproofs and wellies for their children to wear when they go outside in the rain and snow.
Children at St Bede's are encouraged to follow their own interests and are taught in a variety of ways depending on their age and next steps in learning.
In Nursery we follow the new Early Years framework and use this alongside our understanding of child development, different learning styles and the Development Matters guidance to help us plan experiences that are rich, meaningful to our children and memorable – where the children can be learning about the world around us one day and will be acting out the role of a wizard and engaging in imaginary play the next.
We have lots of circle time sessions which help develop speaking and listening skills and build on children's social skills enabling them to build relationships, grow in confidence and develop respect and knowledge about the people and the world around them. We are the foundation of the school in that we promote children to be independent with their eating, toileting and basic needs as well as supporting them to make friends and have lots of fun!
Our Nursery class is a place for children to feel happy and safe, as well as learn through play. We have a fun and ambitious environment and our Nursery children are always at the heart of our teaching and learning as we give them the best start to their school life.

"Play is often talked about as if it were a relief from serious learning, but for children play is serious learning. Play is really the work of childhood"- Fred Rogers
Our sessions:
Full time children: 8:30-3:15pm
Morning session- 8:30-11:30am
Afternoon session- 12:15-3:15pm
Children are welcome to attend for the hours they are entitled to, whether this is 15 or 30 hours or parents can pay for additional sessions.
Sessions are priced at £17.56 per day (£4.12 ph or £12.36 per day, £3 lunchtime supervision and £2.36 for lunch, which includes a hot dinner and pudding).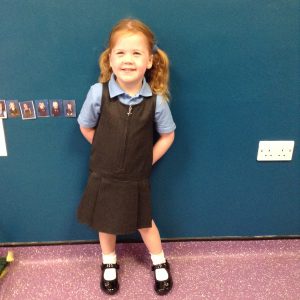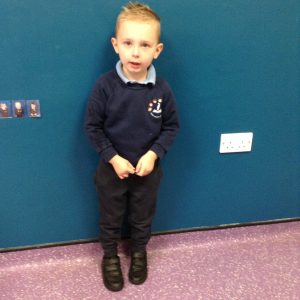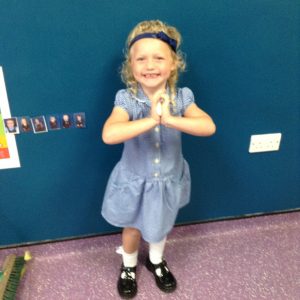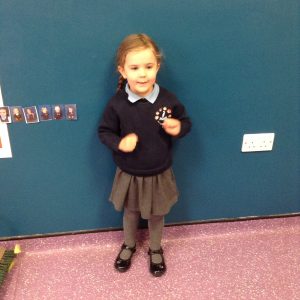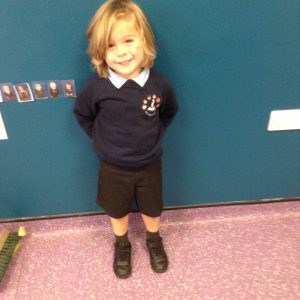 School uniform:
Our Nursery children wear full school uniform which is a pale blue polo shirt, a navy school jumper or cardigan and grey/black trousers, skirt or pinafore and black school shoes.
PE is on a Wednesday and we ask that all children come in full PE kit which consists of a plain navy tracksuit (shorts in the summer) and a plain white t shirt.
Uniform order forms are available below.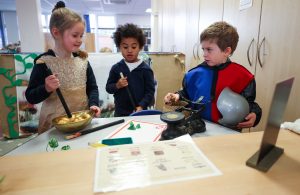 Applying for Nursery:
To apply for a place at our school Nursery, please pop along to school or ring Mrs McCormick the school office on 01642 485217. Once you have completed the application form it can be sent by post, email or dropped off at the school office. Parents are very welcome to ring school and arrange a visit to Nursery, where they can look around our provision and meet the staff. Children are encouraged to come on this visit too.
If children are accepted for a place in our Nursery, the Nursery teacher will then send out an acceptance letter (the half term before they are due to start) and we will invite children in for a stay and play session. This is a time where we will also set a start date for your child to begin their Nursery journey.
30 hours free childcare letter
preparing your child for starting nursery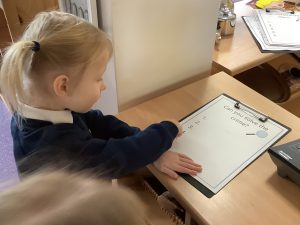 Getting ready for Nursery:
If you are interested or would like further information, then please contact the school office on 01642 485217. To find out more about the Early Years Foundation Stage at St Bede's then please take a look at our Early Years, Nursery Class and Reception Class pages. Thank you.