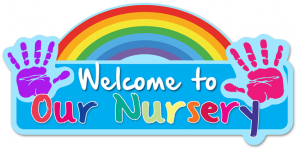 Welcome to our Nursery class page! Here you can find out about what we are learning, important events and what Early Years at St Bede's is all about.
Meet the Early Years Team
Early Year Foundation Stage Leader / Nursery Teacher : Mrs Gribbon
Reception Teacher: Miss Brown
Our Teaching Assistants are: Mrs Nevison & Miss Jowsey
Nursery Session Times
Morning Nursery:
Drop off – 8.30
Pick up – 11:30
Afternoon Nursery:
Drop off – 12:15
Pick up – 15:15
Information
PE
PE lessons will be outside as much as possible.
Reminder about school uniform: Plain stud earrings are allowed but please avoid your child wearing earrings on a Friday as they must be taken out for PE.
Water Bottles
Please send your child with a water bottle to use in class, clearly marked with their name (water only please). The water bottles will be sent home every day so that they can be cleaned and refilled ready for the following day.
Clothing
Please make sure all of your child's clothes and shoes are clearly labelled with their name to avoid anything going missing.
Physical Development and Independence
Please encourage your child to develop their independence when getting dressed, putting on and taking off their coat, hat and gloves etc.
Please don't hesitate to speak to any member of our team if you have an concerns/queries.
Spring Term
It was wonderful to focus on our communication and language skills in our live show and tell this week and get to know you all a little more on google classroom. We have also welcomed our afternoon nursery children and they have joined in brilliantly!
This week we have enjoyed sharing the story "Lost and Found" by Oliver Jeffers. We enjoyed talking about our feelings and linking this to PSED activities.
This week we have also celebrated Children's Mental Health week by going for a walk outside, completing mindfulness colouring together, exercising with a new wake up shake up routine, completing a yoga session and sharing a story and being screen free!
The children have been busy making more bird feeders and have continued to enjoy bird spotting.  We have also enjoyed playing outside in the rain and wind.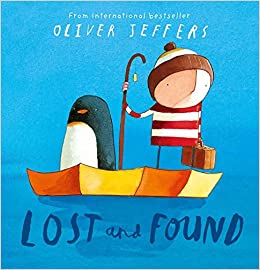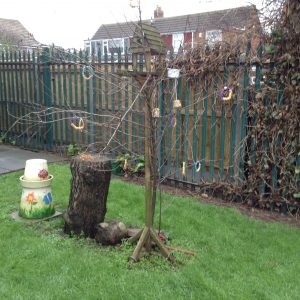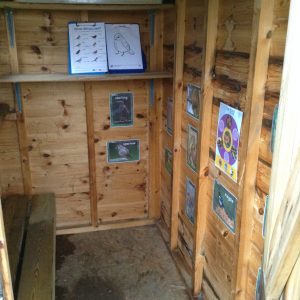 This week we have enjoyed exploring penguins, we have loved reading the non fiction text "The Emperor's Egg" to find out where they live, what they eat and how penguins look after their eggs.
We have also taken part in the RSPB Big Garden Bird Watch, we have set up a bird hide in the outdoor area, taken part in bird watching and made bird feeders.  We were very excited to see a magnificent male pheasant pecking around in our outdoor area.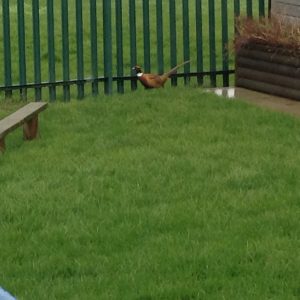 What a snow filled week we have had!
We have enjoyed sharing the story Geronimo by David Walliams and have discussed our hopes and dreams.  It was lovely to discover what you hope and dream of.
This week we have enjoyed exploring the life cycle of a penguin and listened to some beautiful poems about the life cycle from Antarctic Antics.
We have also enjoyed learning about Chinese New Year and celebrating this together, we talked about how Chinese New Year celebrations are similar and different to New Year in the UK.
We have loved exploring the snow too, we have made tracks in the snow, colour mixed with powder paints, explored ice and icicles and used red as it symbolises good luck to paint numbers and mark make in the snow,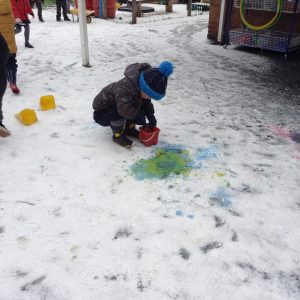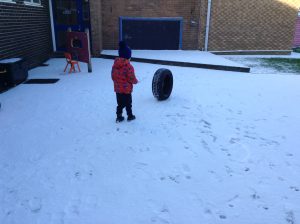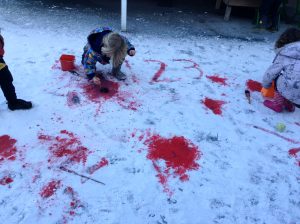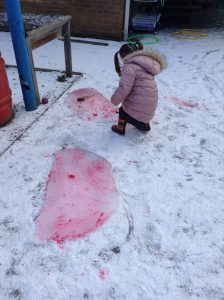 This week we have enjoyed looking at non-fiction books to complete our final week of "Do Polar Bears and Penguins live in the same place?" We have also enjoyed discovering rock hopper penguins. The children have impressed us with their knowledge about polar bears and penguins and have been describing where they live.
In maths we have enjoyed looking at the number four and the different ways it is represented.
We have also enjoyed a hunt looking for the signs of spring in our environment.  We discovered, snowdrops, crocuses, daffodils and enjoyed listening to the birds we could hear, we enjoyed mimicking them.  The children also observed different shaped leaves and lots of worms in our garden.