Dear Parents/Guardians
Welcome to Year 6.
We know how exciting and also nerve-racking the last year in Primary School can be for both you and your child, so we want to support you in every way we can. This year looks very different for all of us so we have included some important information to help.
Meet the Year 6 team
Teachers – Miss Walker and Mrs Bennett
Assistant – Mrs Winn
New routines to remember:
8.30am Family Bubble arrival via the KS2 gate
8:50am Year 6 Bubble arrival via the KS2 gate
2.50pm Family Bubble leaving via the KS2 gate
3.10pm Year 6 Bubble leaving school via the Y6 gate
PE
PE lessons will be outside as much as possible. Y6 will have PE on Thursdays and Fridays. Please make sure you arrive on these days in full PE kit.
PLEASE NOTE – during the current period of school closure (week commencing 4th January until restrictions are lifted) due to COVID-19, PE will be every Thursday and Friday. Please come to school in PE kit on those days.  
Reminder about school uniform: Plain stud earrings are allowed but please avoid wearing earrings on Wednesdays and Fridays as they must be taken out for PE.
Reading information
In Year Six, we encourage independent readers and the expectation is that pupils read every day. It is your child's responsibility to choose either a book from home or the classroom to have in school. We recommend that they choose a variety of genre. Reading Records should be brought to school daily.
https://www.booksfortopics.com/year-6 – Have a look at this website which recommends 50 books to read in Year Six. All children have logins for Reading Plus with access to a wide variety of quality texts, fiction and non-fiction.
Homework
Homework is set on a Thursday and will need to be completed by the following Thursday. Along with the set homework tasks and reading (books and on-line Reading Plus), all children are expected to be practising timetables through TT Rockstars and spellings.
If there is information not included here, please feel free to contact us.
The Year 6 Team
long term plan Year 6 2020-2021
Y6 Medium Term Plan Spring Term 2021
Y6 Medium Term Plan Summer Term 2021
Following the study of the novel, 'A Long Walk to Water' and the CAFOD initiative – I am walking for water – Year 6 children designed and decorated t-shirts to promote Water Aid: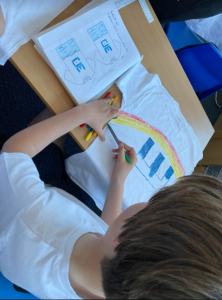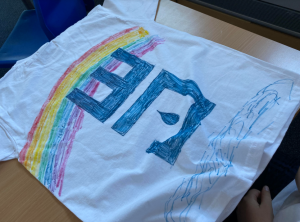 Children have enjoyed celebrating the Feast of St Joseph through attending Mass, analysing Scripture and comparing the qualities St Joseph exemplifies with their own. Children have thought carefully about the influence of good role models and the impact this makes on our lives.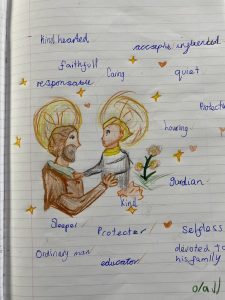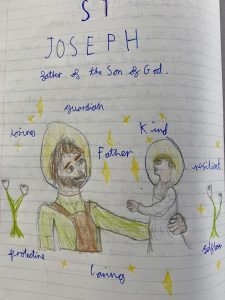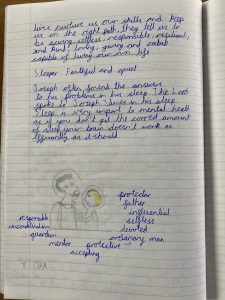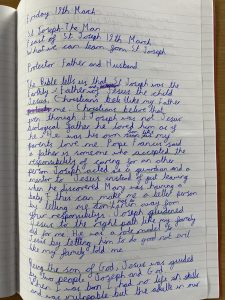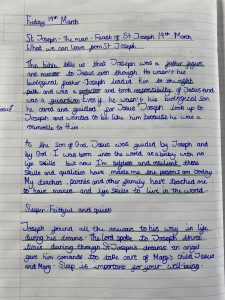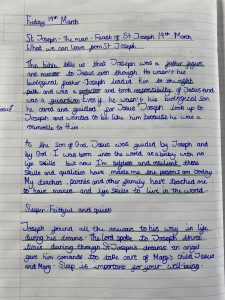 Children's Mental Health Week…
A poem written by one of our Y6 pupils…
Breathe in…breathe out…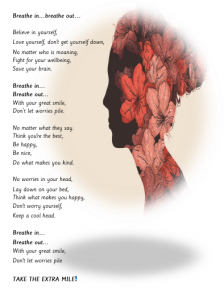 Children responded to our liturgy – Racial Justice Sunday: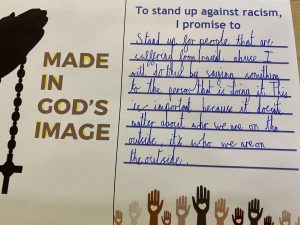 Year 6 class prayer for the end to the pandemic: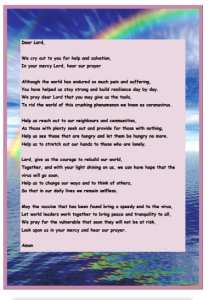 In this season of Advent, children wrote their own reflections of Hope, Joy, Peace and Love.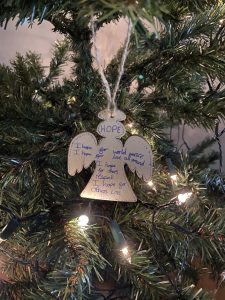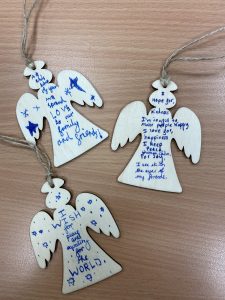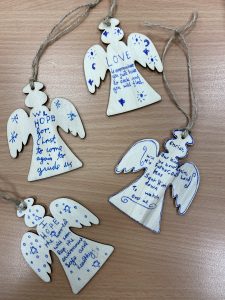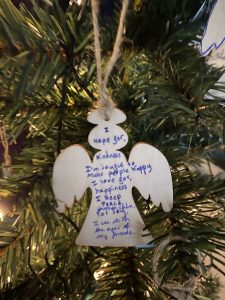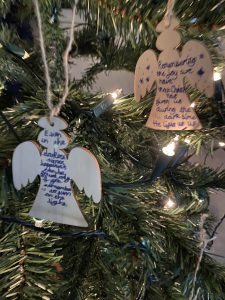 'Remembrance' has been the focus of our history learning this week.  Children have written some wonderful thought-provoking poetry after analysing World War One poems written by Wilfred Owen (Dulce et Decorum Est) and Isaac Rosenberg (Dead Man's Dump). They have also learnt what 'propaganda' is designed their own propaganda posters.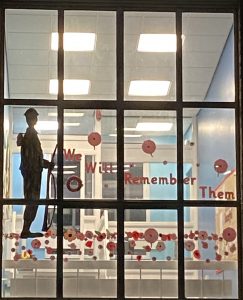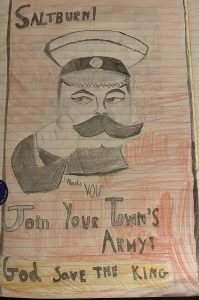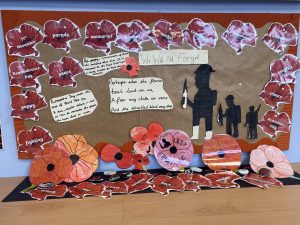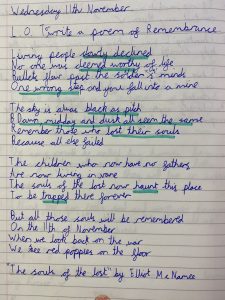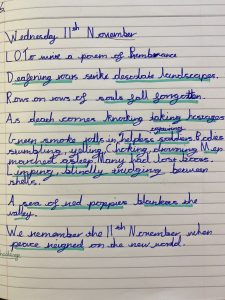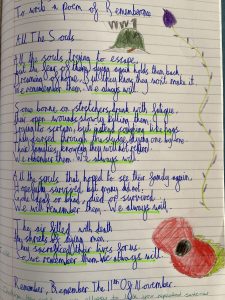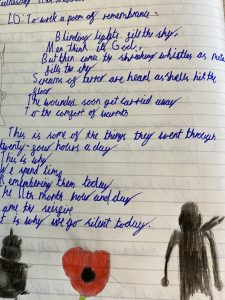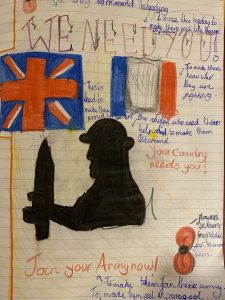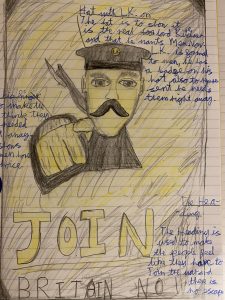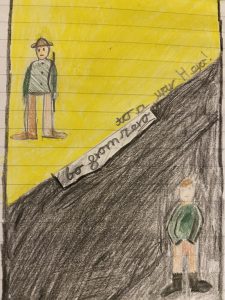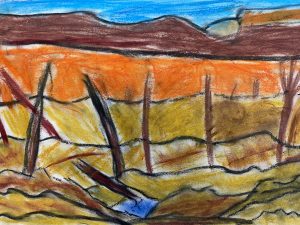 Children have taken inspiration from World War 1 artist, Paul Nash and his painting, 'We are making a new world' to create their own artwork using pastels as the medium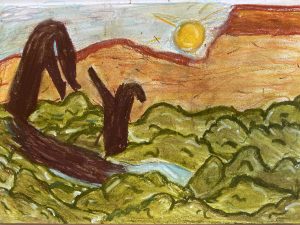 Children have written some wonderful newspaper reports detailing the assassination of Archduke Franz Ferdinand as part of their learning of history and World War 1.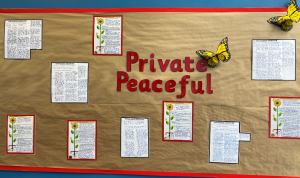 What make you unique, individual and special…? Children expressed their thoughts and feelings through poetry as they started their journey in Year 6!